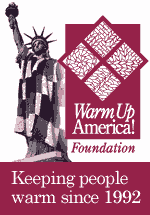 Land's End
is apparently donating yarn to be used in creating squares for blankets for
Warm Up America!
. You can read about it
here
in the Crochet! magazine newsletter. I've been wanting to get a group together to do projects for charity, but I'm not sure if I could generate any interest in the people I know. I might see if I could get involved in this project.
Anyone else know of good charity projects that you don't necessarily have to be part of group to participate in?
On the hook:
Project for niece for Christmas
"The man without the Spirit does not accept the things that come from the Spirit of God, for they are foolishness to him, and he cannot understand them, because they are spiritually discerned."-
1 Corinthians 2:14